Leading CRM providers for Software
Posted On Feb 06 2021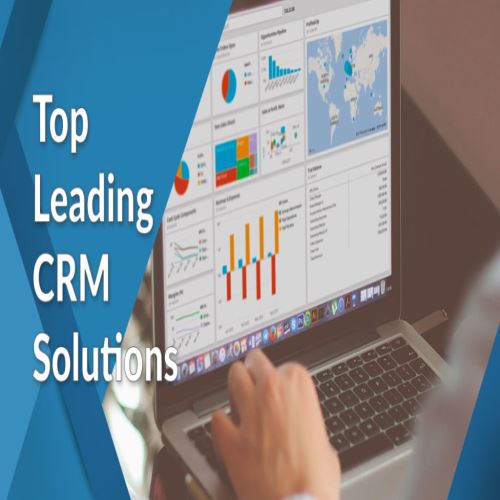 CRM! What is it? CRM process involves the basic deal of actions and procedures that the industries use to communicate with their customers at past and in present future. It is the proper maintenance of relationship with the customers, so as to obtain their loyalty and trust .It allows you to attain several customer relationship tasks and more. Other process includes customer data, information analytics and lot more to gain knowledge.
Nowadays running a software company is harder wearing and to gratify the needs, we need to catch up the clients with the stellar software known as Customer Relationship Management. Software companies don't want to spend a lot of money in the vintage software instead CRM can help to improve operational efficiency. 74 % customer satisfaction will improve when you have CRM in your business.
Salesnayak aid to keep every single information at one place for the employees to reach more quickly and easily. We provide CRM software that gives regular attention of customers because it will allow the business to stay updated.
Does CRM is very essential to software companies?
In Software Company, CRM is needed because it enables businesses to enhance the loyalty, retention and profitability between the customer and the company.
What are the Involvements of CRM in software industry?
CRM through its data analytics and database helps the software companies in many ways. Here is some Key functionality
1. Sales and Marketing
CRM have various information from leads such as social media, business, and marketing activities .When we have all data in single place, it is easy to coordinate and convert leads into customers. We can send quotation regularly and log their activities in software.
2. Operations and support
CRM tool records all calls and interactions between clients and teams and generate reports to sow agent productivity and highlight which tickets are open and which tickets are closed.
3. Analytics
CRM tools gather and collect all information regarding the data of sales and operations to build a picture of ideal customer and current performance of the operations. It enables the companies to operate efficiently. Employees also get easier as they don't rely on multiple tools and they record the customers' data in an efficient manner as the tools are integrated in single software of CRM.
Benefits of having CRM
An immaculate CRM should miscellaneously provide the following
Never ending customer data – We all know that when a relationship should be everlasting there should be immediate responses and instantaneous solutions. So your customer's information is stored safely in cloud based platform in real time.
Take along inter organization coordination – This bring you the advantage of sharing the data that is present in the cloud database and it will be all the members in a team and can work equally without any disputes. One working on the same tasks and can be very useful.
Reforming dissimilar process – CRM is present with wide range of features that help in increasing the team's capacity to finish the works on time and preparing the marketing team to find more leads and it will be easy for other teams to solve everything easily.
Handling the clients journey beforehand – CRM will help you make a drastic change in the life of customers and in the same way the change will reflect in your business also and remind the events of customers. You can get the requirements and need of the customers that will surely make the strategies better and faster to the customer requirements.
Make Penetrating moves – All the customers feel grateful when their project is remembered by the team and when they get a quick solution for it. CRM helps you in all ways of analysing the past data and giving advices and guidance to the customer accordingly.
Prime tasks in Salesnayak CRM
Form CRM as you're unique
Once you decide to include CRM into your business, then it is the way you modify it for your business and not the other way. Salesnayak CRM will be very flexible enough to make your business at the most effective way of correctness to the customer .We recreate the CRM as per the needs of your business deals and ideas.
Observe CRM – work for you
In general an ordinary day of every association will be getting into office and setting up to the daily work but we can reduce the time of important activities. And with very easy features and sales that can be made efficient. Calm down and plan for other thinks until then Salesnayak CRM will provide you a unique and excellent work.
Concentrate, conduct, and cooperate
When you come under Salesnayak CRM, the communication can be brought under one umbrella. Emails, Messages, Live Chats, Twitter, and Phone Calls are all under us and it will be very easy to connect with the customers. And it will be easy to follow your customers who are having all forms of streams in media and other metrics. This is why choosing the Leading CRM providers for Software Company is important.
All in all at one place
Time is so precious and so you cannot waste time giving most of the chances and time to forward all the details of the customer in different forms. Therefore just by a single click you can get everything. In this you can concentrate your time and many things like past conversations, Emails, old purchases of the customers to get the background knowledge
When you concentrate in Leading CRM providers for Software Company it is not that you need not do other software works, software solutions might be useful in different tasks. And it is unnecessary to abandon those software tools. With our team of developers we will bring you the tool of – APIs, SDKs functions and several others that will bring your software into CRM and coordinate everything at the same place.
Salesnayak uses 5 strong ideas to implement CRM in a proper way to customers.
5 Successful ideas
1. Understand your business needs
Before starting with the CRM you need to understand the business goals, what the organization does how it works, and for what it gives you more importance. Map the workflow and then start with the CRM.
2. Understand user's needs
User's needs should be understood and it is customized accordingly to that to modify the user's need of past difficulties.
3. Understand your future customers' needs
It's important to align all the moving parts of your customer and look into their future needs and no matter how they behave with your business but should be tailored properly.
4. Define your vision and pick the right choice
After collecting the information that is needed for your business, it should be properly coordinated anc integrated with the business to achieve the goal.
5. Make a plan and share it
You have to plan by the map of your systems, what you have explored, integrated, and decided to share with the customers with the right CRM.